Linking up with
Ashley at Adventures of Newlyweds
for Friday's Letters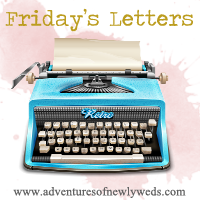 Dear Weekend: I am so glad you are here, so I can catch up on my rest. Thundering Up this week has been hard on this ole gal.
This was pretty appropriate to play since it's what I am needing today!
Dear Kids: Welcome Home!
Dear Thunder: You have to change your ways or you won't be in the finals long. Please stop waiting until the 4th quarter to try to win. You have to want to win the second the game starts.
Dear Scott: I'm sorry I am kicking your a$$ in Words With Friends this week. I'm sure my lucky streak will end soon.
Dear 50 Shades: One down. Two to go.
Dear Vacation: Wow! Only a week left until we meet. Seems like just yesterday I was counting down and was on day 42. Hopefully the time on vacation won't go as fast as the countdown did.
Dear Pool: I'm hoping to enjoy you as much as I did last weekend. I know when the kids are home, things get a little wild and crazy, but I'm willing to make that sacrifice for you.
Dear Nails: You look horrid. Let's see about getting you fixed up a little this weekend, eh?
Dear Reebok: Thanks for having a great sale at the Outlet Shoppes! I got a brand new pair of running kicks and I am kind of looking forward to taking you for a test run this weekend.
Dear Scale: Thanks for not hating me and giving me decent readings this week considering I have made little effort to eat well. I promise I will get on the right track.
Dear Bloggy Friends: Thanks for following!