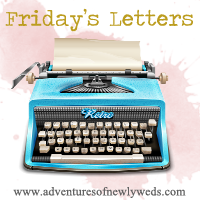 Today I am linking up with
Ashley
for some Friday Letters.
Dear Treadmill/Shaun T: I know I keep promising that I am coming back soon, but I really am.

Just not today...and maybe not tomorrow, either.
Dear pool: I'm so glad you are better. Now if you could just please warm up a bit, you will be perfect.
Dear Floatie: Once I find you, oh perfect one, you and I are going to spend some quality time together this weekend. Fun in the sun, I'm tellin' ya!
Dear Hunger Games: I am so finishing you this weekend!


Dear 50 Shades: You're Next!!
Dear Table Rock Lake: We are 2 weeks away from spending a week with you. I am ready. Are you?
Dear OKC Thunder: Thank you for winning the Western Conference. You are making all of OKC proud!
Dear Readers/Followers: Thank you for the love and taking the time to read my blog. I'm not the most exciting blogger out there, but I'm enjoying sharing our life with you.
Dear Kids: Enjoy your summer. You are young, wild, and free. If you want to spend the next 2 weeks in Kansas, your dad and I will be fine. I promise. :0)
Dear Hubby: Thanks for a great week! Bring on the weekend!