Yeah I know two posts in one day. Don't get used to it!
After I posted the "It's okay Thursday!" post, I ran into another link up I wanted to take part in.
These two ladies have started a link up about weight loss and getting healthy. You can find them
here
and
here.
Although I don't think either one of them need to lose an ounce of weight, I totally understand wanting to get healthy.
So, I decided to join in on the fun! (Just go with me on the fun part)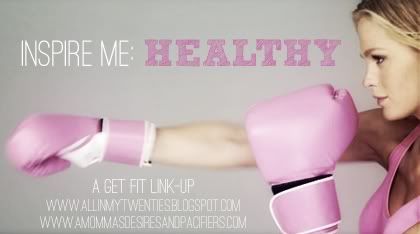 As you know I started the Couch to 10k program a couple of weeks ago....well actually last week. I just did week 2, day 1 today. (Due to the encounter with the alcohol over the weekend, I was pushed back a few days, so my schedule is all whack-a-doodle now.)
Anywho, once upon a time I was skinny. I was a size 3-5 out of high school, after having baby #1, and baby #2. Eventually I went to a 7, then a 9, and then all the way up to a 14. I was almost to the point of out weighing my husband. I was steps away from 200 smackaroos (and I'm not talking money here)
It's funny how things like weight can just sneak up on you. I swear I woke up one day and was like "Holy Sh*t! Where did this fat come from?" After discussing weight loss options with a co-worker, she convinced me to see a weight dr. She had much success with it, so I took the bait. (Yeah, I'm such a sucker for a good gimmick). I started on the diet Nov. 11 of 2008. By New Years Eve, I was down 17lbs. By February/March of 2009, I was down 30lbs. It was a low carb, high protein diet. Eating several meals a day, but also included diet pills. I had never felt better. I looked good and I was confident. It was the best feeling in the world!
Eventually the summer rolled around and I didn't want to "diet" anymore. I wanted to drink beer and have fun with my friends. And that I did. Up 10 pounds - no big deal, I will just work on it in a week or so. Up 20 lbs. I still feel okay, and nobody can tell - right? Up 30 lbs. What was I thinking? I wasted all of that hard work, not to mention money. I ruined a good thing.
To this day, I still go see that weight dr. every month, but it's not the same. He would give me anything I wanted, as long as I paid for it of course, but I don't have the motivation to follow the "diet" again. I feel hopeless.
The working out part isn't the hard part for me, it's the eating that gets me. I know that eating right will eventually pay off, but there are days that I would hurt tiny creatures for a big ol' juicy burger. I know diet is in moderation and you should eat a burger, if you really want a burger, but some days that's all I want for like 7 days in a row. Plus fries. And maybe a shake. It's a slippery slope and I slide fast. Face first.
I've read a lot of blogs. I have seen a lot of inspiration and I know what I need to do. The hard part for me is the following through. "Don't waste a good workout by eating crappy food." "Abs don't come from working out, they come from eating right."
Food will always be a lingering thought for me, which is why I am 100% reliant on diet pills. No they are probably not the safest thing for me, but in reality if I have taken them, then it's easier for my mind to think I'm not hungry.
"No silly, you're not hungry. You just had your pill. All will be well in just a minute."
Now don't get me wrong, I am not starving myself. I eat 3 meals per day. Some good, some bad. But lemme tell you...on the days I don't take my pills, it's like a flood gate. I am raiding cabinets and vending machines, etc. It's all in the mind for me.
What I want is to finally break free from the "oh my gosh I think I am going to die if I don't eat right now and I will eat anything just to satisfy that hunger" moments. I'm a sucker for diet coke and would love to kick this coffee in the morning habit. I hate coffee, I really do. However, I have this fascinating concoction that calls for a lot of creamer and 3 sweet 'n low packets per cup. I typically have 2 cups per day.
I want to eat meaningful meals that are fun, not boring. I want it to be a lifestyle change that is easy to maintain. Because as we all know, when things don't go as planned, it could be VERY dangerous when it comes to food and gorging.
I want to be an inspiration to my kids, so they know just because you are "old", doesn't mean you are fat and lazy.
I hope I can be an inspiration to you, as you will be to me. It's going to be a bumpy ride, but let's tighten up our seat-belts and grab our helmets.
Are you ready?
Here is my before pic. (Sorry - no skin.)
My attempt at a self-portrait. Not good. Not good.
Photo of me - with my daughter's help.
This is me today, 8/2/2012 - fresh off the treadmill after completing a Couch to 10k workout. As you can see, I could definitely use some help in the stomach, legs, and ass area. (I know you can't see my ass in this picture, but I promise you it's there!) I have a FUPA, ya'll! A FUPA! Some of you know what that is, for those of you that don't - google it (or urban dictionary)! It is the most humiliating part of my body. I hate it!!!
We can do this! Cheers to all of us....soon to be....Skinny Bishes!! xoxo