I know I owe you the final recap of "Lose 10 in 10", but I'm going to do something a little different today....a linkup with
Holly
and
Jake
.
I'm a little late to the party, because they all did this like 2 days ago (oops). I haven't done one in awhile and this one looked kinda fun....Here we go!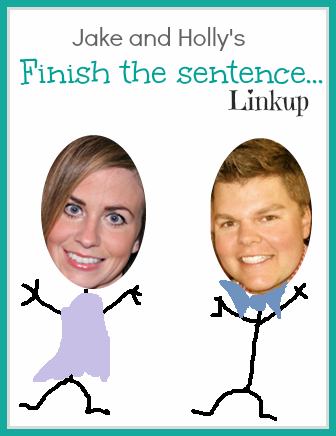 If I had one extra hour in the day
.
.. maybe I would get that exercise in. Or maybe I would sleep more. Or just maybe I would get those pesky chores done that I keep putting off. Nah....I would probably just sleep it away, spend it on Pinterest surfing, or watching trashy tv.
I wish my name... was Amy...duh.
I think anything chevron is... okay in moderation. It's cute and fun, but a little chevron can go a long way.
My last nightmare... the last bad dream I had was a few nights ago and it was about having a flat tire, when I was driving by myself. (Funny thing is - that really has happened to me several times) Although in my dream, my husband wasn't readily available, but I was talking to him on the phone while I was freaking out. Then all of a sudden I was like "oh nevermind, my tire isn't flat anymore." Weird, I know.
Sometimes... I wish I had an endless supply of cash and could just vacation anywhere on a moments notice.
My last meal on earth would be... Chocolate, Mexican food, fried rice, sushi, cheesecake, and a giant Pepsi to wash it all down with.
I would much rather...work 4 10 hour days, than work on Friday.
Mayonnaise... is good on certain things. Cheeseburgers - yes. Sandwiches - yes. French Fries - no.
10 years ago, I didn't think...we would still be living in Oklahoma and married, but both seem to be working out well!
Selfishly... I would love to go on an endless shopping spree and buy a whole new wardrobe from head to toe, but the kids think they need new school clothes instead.
My favorite show on TV right now... Big Brother, Real Housewives of OC, Tia and Tamera, Bill and Giuliana, and my soaps.
And, George Zimmerman... is a pompous ass. That's all.