Linking up with Neely today for
It's okay Thursday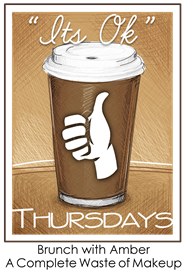 ....that I sleep with a flashlight when I am home alone. (huge flashlight) It's my weapon just in case I need to kill beat the living s***t out of anyone who happens to intrude in the middle of the night.
....that I haven't gotten hardly any sleep since Sunday. (Really, it's not okay, but it is what it is)
....that I am writing this blog on Wednesday (not Thursday) at 4:30a.m. (see above)
....that I am super-duper excited for Big Brother tonight.
....that I am even more excited for RHOC Reunion Part #2 on Monday.
....to be super Thankful that the race on Saturday is "just for fun". I'm not ready to compete against my own time, even if I have running with my daughter as an excuse to go extra slow.
....to know that some of you are thinking my flashlight is not really a flashlight. Pervs. I promise it is. I know what you are thinking. I have been to those parties before..=)
....that I may have thrown a 2 year old-like small tantrum last night when I thought I was denied access to work from home via my laptop. I was denied access, but for other reasons then what I thought. Gah! I freak out way too easily sometimes.
....that I haven't cooked dinner since Sunday night. Maybe I will tonight. Maybe.