I feel like I am so blessed, yet I can't help but want more. (Greedy, much?!?!?!) If you know my husband, you would know that he would buy almost anything to make me happy. This is very good for me, but can also be very bad! :0) For instance this little guy joined our family all because my husband knew I wanted one. Boom!

(Side note: My husband is just as in love with this pig as I am. However, the pig loves him more. Am I a little sad? Yes. Is it okay? Of course. I'm just thankful that the transition of pig > human life was easy. End side note.)
His face....OMG! I die.
My birthday and Christmas are coming up, so if anybody needs any ideas for gifts - here ya go!
Kopykake projector - essential for proper cookie decorating. (In my opinion)
KU. Jayhawks. Apron. Cookies. Must. Have.



And these Toms? Adorbs.
You really can't go wrong buying me anything KU. I mean, I love it all.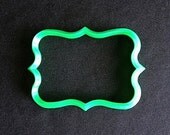 Cookie Cutters! I love this shape especially, and it's one I don't currently have.
I'm always looking for unique cookie cutters! This one is available on Etsy!

Vitamix - um Hello! This little contraption does a lot of work!
It's expensive, but it's amazing. I see myself purchasing this beaut via QVC easy pay. Merry Christmas to me!
I'm not typically one to just throw my "want" list out here for the world to see, but in case any of my readers want to shop for me, here are a few ideas. Please understand that I'm well aware that most of these items are a tad pricey, so if in doubt...KU! Oh and cupcakes from DC Cupcakes. :0)
Toodles.